30 Dec

There are many kinds of promotions at the end of the year. If you want to take this opportunity to buy a trail camera, here is a summary of the best trail cameras in 2020.
These cameras we selected can not only be used for wildlife monitoring and hunting, to protect the farm from being attacked by strangers or animals, but also as a home security monitor. In short, it will be a multifunctional device.
Best Trail Cameras in 2020 – Specifications, Pros & Cons
1.Meidase Trail Camera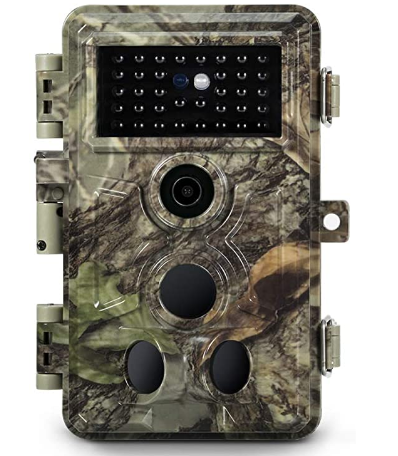 Meidase SL122 Pro Trail Camera - Built for high-quality images and the easiest use
This is a newly-upgraded excellent trail camera for you to catch amazing activities of wildlife

Compared to the SL122 model, this pro version includes significant improvements. It is equipped with an more advanced processor, adds a high-sensitivity microphone for clear sound, and takes a state-of-the-art image sensor and smart night imaging technology to produce more brilliant night vision and videos
Specifications:
Resolution: 16MP HD 1080P
Field of view: 110° degrees (diagonal) with distortion correction
Night Vision: 36pcs high-performance 940nm IR LEDs
Motion Activated Performance: 0.2S trigger speed
PROS:
Takes breathtaking shots
Clear sound
Clear night vision and videos
CONS:
Battery life is fast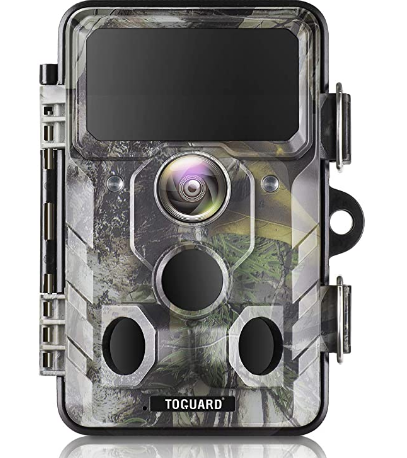 This camera is upgraded to Bluetooth,and you can contral the camera's WiFi by turning on/off with connect Bluetooth.No need the remote control.
Specifications:
Resolution: 20MP Image & 1296P Video Super HD Recording
Waterproof: IP66
IR Flash: 36pcs infrared LEDs (850nm)
Video Length: 10-60seconds / 1-3 minutes
PROS:
High night video quality
The detailed user manual covers all the details of various functions and how to operate
CONS:
Some customers think WiFi connection operation is not easy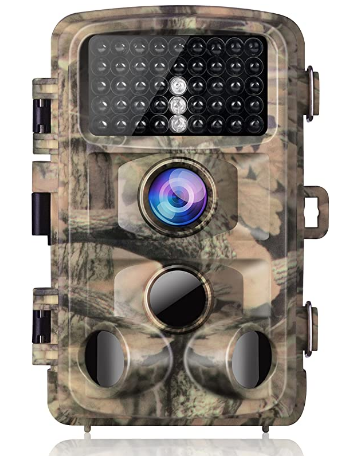 Customer Experience Video From YouTube(Click to view )
16 Megapixel Image and 1080P Video
Compared with 12 megapixel device, Campark T45A trail camera upgrade 16MP(16 megapixel) and featuring 1080P (1920*1080) resolution, allows you to enjoy the wonderful animal world through super crystal pictures.

Super Infrared Night Vision
42 pcs low glow infrared LEDs, 850nm infrared flash technology brings clear view of wildlife at night. Valuable moments of nights will never be missed. This trail camera would be a perfect gift for you.

3 of Passive Infrared Sensors
3 passive infrared sensors design can save more battery power while working,and increases sensitivity which makes it triggered in shorter time with longer distance up to 20m(65ft).
Specifications:
Resolution:1080p 16MP Megapixel
Infrared LEDs:42 pcs
Night Vision Type:Low Glow IR
Night Vision Range: 20M/65FT
PROS:
The trigger sensitivity of the sensor is good
Good appearance, good quality and low price
Easy to install
CONS:
Some customers think Micro SD card is not easy to take out
4.Crenova Trail Camera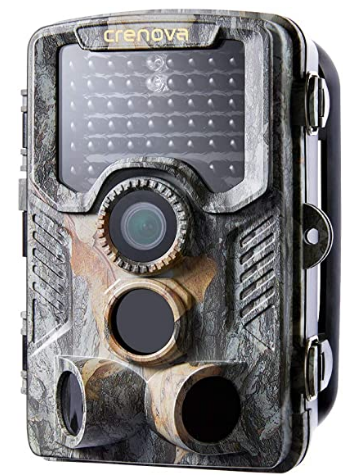 This trial camera has 20MP Images、1080P HD Videos, records every moment of vivid wildlife & spectacular nature with rich details.

47-Piece 940nm IR LEDs & auto IR filter give excellent night performance, creating clear and sharp pictures and videos to satisfy all customers' needs.


Wider Detection, Faster Trigger
3 Innovative sensors provide 120° detection angle & 65ft detection range, while 0.2s lightning trigger speed catches any movement of our furry friends.
IP66 Waterproof, Versatile Uses
IP66 coating, tight seal and longer service life make it suitable for indoor & outdoor applications, like farm/home security, wildlife monitoring/hunting.
Specifications:
Photo resolution: 20MP
Video resolutions: 1080P
Detection angle of sensors: center 60°, side 30°, total 120°
IR flash: 47 Pcs 940nm ; IR LEDs range 20m
Storage Formats: JPEG/AVI
PROS:
The image quality is very good
Standard SD card, which is easier to operate
Fast motion sensing
CONS:
Some customers think the motion detection performance is unstable sometimes
5.GardePro Trail Camera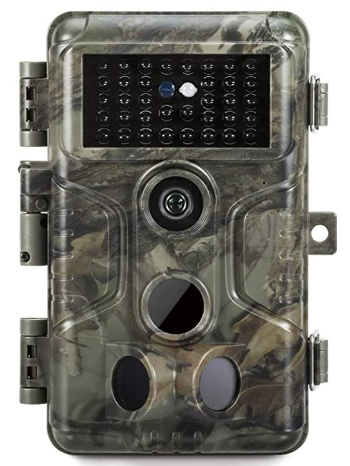 GardePro A3 - Built for the Best Night Vision Experience
The GardePro A3 trail cam is engineered to resolve bad experience on night vision such as over-exposure and under-exposure (dark) issue on the conventional trail cameras.

This camera is equipped with a ultra-clear SONY Starvis CMOS sensor, large aperture lens, smart imaging to produce clear night vision.

It also features fast motion detection and no glow invisible infrared technology, which is perfect for outdoor wildlife trail and home security, stealth and won't scare any animals.
Specifications:
Picture resolution: 20MP
Video Quality: 1080P 30fps (aspect ratio - 16:9)
Image Sensor: SONY Stavis Sensor
Night Vision Range: 100ft
Trigger Speed: 0.1S
PROS:
Good night vision distance and clarity
Precise delay
CONS:
Can not stay in a watery environment for a long time
Trail cameras should be the quite frequently used among all digital cameras,and this is not the first time I have written trail camera guide, just to let you buy things you like this year and save money and worry.