About this item
【4K Ultra HD Video Resolution】 Stunning 8 Megapixels IP camera ( 3840x2160P) has about 340,000 pixels more than 5MP, provides 4x clarity of 1080P, With 3.6mm lens, 110 °ultra-wide diagonal FOV, bringing you a new video surveillance experience. The powerful infrared LEDs captures sharp footage in the dark up to 100 feet/30m.

【Plug and Play PoE Camera System】 Just connect the ip camera to the NVR via POE cable, plug power to the NVR will automatically start video record, easy set-up and install. With CAT5/CAT6 Ethernet cable, you can stretching ip cameras up to 270ft/330ft faraway no need camera power supply.

【3TB HDD】 Pre-installed 3TB Hard Disk Drive in the NVR box(Please ignore the manual said about HDD), reliable 24/7 non-stop recording up to 90 days no overwrite. Also it takes up less bandwidth and enables smooth remote viewing with smart device(iOS/Android/PC).

【Motion Detection & Customized Alarm Area】Mark out the relevant areas for motion detection to minimize false alerts, so you can keep special alert on what you care most. The security camera system will send instant email alerts with snapshots and APP pushes of suspicious events immediately no matter where you are.

【IP66 Weatherproof & Easy Remote Viewing】The security cameras are durable enough to withstand extreme temperature from -40°F to 140 °F. Just connect the network cable to NVR, you can get remote access to live view or playback all details on the APP via 2G/3G/4G WIFI anywhere anytime, support extend up to 8 IP cameras.

【Lens type】: Wide Angle

【Mounting type】: Protruding

【Video capture resolution】: 4K/8MP(3840×2160p)/Four Times Clarity of 1080p
How to get 4K 8.0MP resolution
(1) Make sure your monitor resolution is 4K or higher, and connect the NVR to your monitor.
(2) Configure your system and go to Main Menu - Settings - Basic and manually change "Video Out" to "3840 * 2160".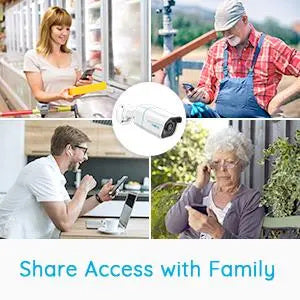 Video Sharing
As a home monitoring guard, he allows members with access to monitor the home in time.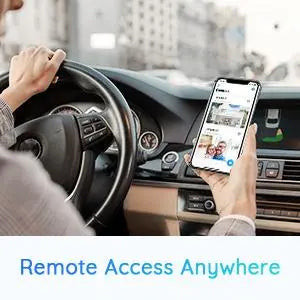 Remote Live View
After installing the Eseecloud application, you can use your cell phone or client PC to remotely monitor all the security cameras on your device. Live video preview, recording, simultaneous playback and backup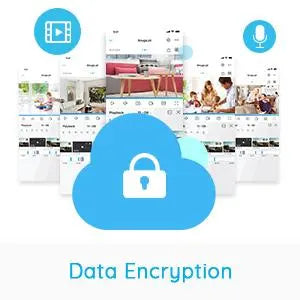 Data Encryption
We use AWS servers to access your system remotely, which means your data is still your data. All data is dynamically encrypted and well protected.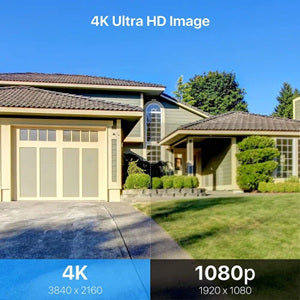 Ultra HD 4K / 8MP and Super Night Vision
4K Ultra HD POE camera (3840*2160P), equipped with advanced CMOS, has powerful color perception and more detailed video image quality processing. Even at night, the excellent night vision capability still provides super clear picture quality.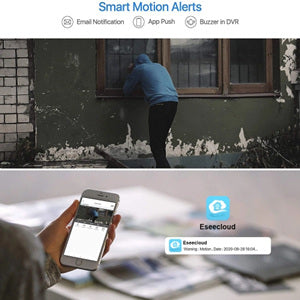 Human Motion Detection
Each camera can identify moving objects. It will take photos first and notify you via cell phone and email so you can be notified in time. You can customize the monitoring area and adjust the trigger sensitivity.

POE cameras have many advantages
Compared to traditional surveillance cabling, POE cameras are very easy to connect and the cabling is efficient and flexible. A single network cable is enough for both power and network.
POE system front-end only a camera and a network cable, cable wiring neat, no external power box, plugs, adapters and other components, simple and generous.
POE system is a safe low-voltage DC power supply, without the danger of strong electricity. When the traditional monitoring system AC power supply access port, there are poor construction line connection, aging line short circuit, building line short circuit, water inlet and other safety hazards.
In general, POE cameras can be used in homes, stores, offices and other scenarios, and are increasingly accepted for their beauty, safety and convenience.

How to connect the security cameras to NVR ?
Connect the IP cameras with POE cable to NVR.
Connect a monitor to NVR via HDMI/ VGA cable. (Not include)
Plug the Ethernet Cable to the NVR and your router.
Plug the Mouse to NVR.
Power for cameras, monitor and NVR.
NOTE:
The PoE Home Security Camera NVR Kit NOT support Audio Recording.
Please connect the adapter with NVR firstly, then connect the adapter to the socket.
If you need to view cameras remotely, then need to connect the CCTV camera system to the internet.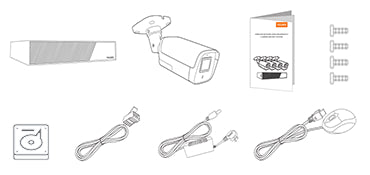 specification:
Resolution: 3840x2160P (8.0MP)
Field of View: Horizontal: 85°, Vertical: 50°,Diagonal: 90°
Video Input & Playback : Supports 8 IP cameras
Night Vision: 100ft/30M
USB Interface: USB 2.0
Power Input: DC 48V/ 2A PoE
Packing List
1 X 8CH NVR?(3TB Hard Drive Pre-installed)
1 X DC 48V/2A Power Adapter(for NVR)
4 X 8.0MP IP Cameras
4 X Ethernet Cables
4 X Screws (for HDD)
1 X 65ft Network Cable
1 X USB Mouse
1 X User Manual
Purchase this product first or wait for order to complete in order to give review
Total Reviews (17)
click here write review to add review for this product.
1:Which transport methods do you offer?
We have warehouses all over the world, providing DHL Express, USPS, Canada post and other transportation methods.
According to your country, you will be given a relatively close shipping location.
The United States, Canada, France, the United Kingdom, Germany, Italy, Spain, Australia, Japan and European countries need 5-10 days to arrive, other countries need 10-20 days
2:How can I track my order?
When you complete the purchase, we will provide you with an order number (to send you the order number via email), you can query this website based on this order number at https://t.17track.net Logistics information
3:How much is the shipping cost?
As long as the order is over $15, the shipping is free(Free shipping on holidays) If the order does not exceed $15, the shipping is $10 for worldwide。 Some remote countries and regions need to charge 10-30 US dollars for transportation fees (shown on the checkout page)
Note: If you want to buy in bulk, please check the customs policy of your country before buying. We don't include customs clearance and you need to clear it yourself. If the goods are returned because they cannot be cleared, we need to charge the freight for the goods.
Most goods in the United States, Canada, the United Kingdom, France, Italy, Spain and other European regions don't require customs clearance, and will be delivered using local warehouses.
For other countries, please contact us before buying in bulk.
4:How to return the product?
If your goods have quality problems, please contact us at:[email protected]. and provide your order number.
If there is a problem with the product, you can return it within 30 days, we provide a one-year warranty
If you have any questions, you can request a refund on your paypal or credit card.anytime.
Our goal is to make sure your International buying experience exceeds your expectations. If you have any questions or would like references from our customer base of large institutional, research or university clients, please feel free to contact me anytime at [email protected]
5:How to cancel an order?
If you want to cancel your order, you can contact: [email protected].
But please note: if you pay with paypal, we will refund you the full amount.
If you pay by credit card, the bank will deduct our handling fee, so we will deduct the 3.5% handling fee and refund you the rest.
Note:
Due to the impact of Covid 19, logistics will be delayed. It is expected to be delayed about 3-5 days than usual. If your country or region is closed, we will send you an email to notify you. Please fill in your email when ordering!